This is Habby. He is one of our 2 herd sires. He joined us from Legendary's Rabbitry and we are so very happy to have him in our herd. He has such good type and is just a sweetheart. Looking forward to seeing his kits mature.
Meyer's Adam
REW Buck
Adam will be joining the rest of the breeding herd in a few months. He needs to mature a bit more. Almost named him "Attitude" since he's a fiesty one, but he's a lover once he settles down.
This is Silky, or otherwise known as "Moe". My daughter decided she didnt look like a Silky. Anyway she is just now being weaned from her first litter and did a wonderful job. She was such a good mom, we even fostered one of our Dwarf Hotots to her at 2 days old. She didnt blink. Great mom, great kits. Love em!

Meyer's Silky ( Moe )
Blue tort Doe
This is Meyer's Silky, AKA "Moe". My daughter felt she didnt look like a "Silky" and liked a character named Moe. We fought her for a while, but Moe it is. Moe is a great mom, and will foster just about anybody for us. Moe is a wooly, but throws great kits with a buck who does not carry the wool gene. Moe is also VERY tiny and still manages to carry off an attitude of "Look at ME!"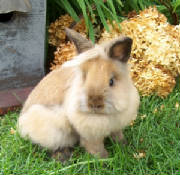 We lost Whisper this spring while kindling. We will miss her very much. Whisper came to us from Tammy Setzke and we are thankful we had the chance to have her in our herd. Whisper was the best mom, and had beautiful babies. We loved her very much.